Print Options:
Baked Goat Cheese with Spring Lettuce Salad


Yields
Makes 4 servings

The classic California salad. A signature dish at Berkeley's Chez Panisse, it's been on the restaurant's cafe menu for more than 25 years. Prep and Cook Time: about 30 minutes, plus marinating time (optional). Notes: You can skip marinating the cheese, but it won't be nearly as flavorful. Panko (crunchy Japanese bread crumbs) are available at most big supermarkets.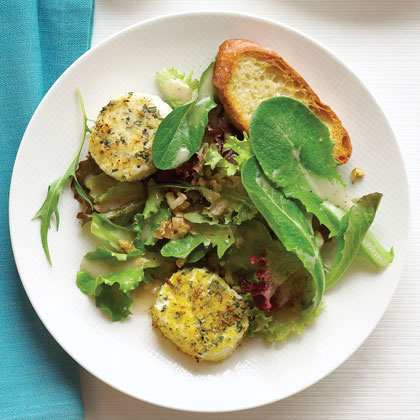 Photo: Annabelle Breakey; Styling: Randy Mon
12 ounces fresh, mild goat cheese (such as Haystack's Boulder Chèvre)
Leaves from 4 sprigs thyme, chopped
Leaves from 1 small sprig rosemary, chopped
1 1/2 cups extra-virgin olive oil
1/2 baguette, cut into eight 1/4-in.-thick slices
1 teaspoon sherry vinegar
1/2 teaspoon coarse kosher or sea salt
1/4 teaspoon freshly ground black pepper
2 1/2 tablespoons walnut or extra-virgin olive oil
1/2 pound baby lettuces or salad mix, washed and dried
1/2 cup toasted walnuts, coarsely chopped
Step 1
1
Shape the goat cheese into eight 1-in.-thick disks and put in a container just big enough to hold them in one layer. Sprinkle cheese with herbs and pour on olive oil. Cover and chill at least 12 hours and up to a week (see Notes). One hour before baking, pop them in the freezer to firm up.
Step 2
2
Preheat oven to 400°. Remove cheese from marinade and roll all sides in panko, pressing gently so the crumbs adhere. Arrange on a large baking sheet and bake until golden, about 15 minutes, turning over halfway through. Add baguette slices for last 5 minutes of baking.
Step 3
3
Whisk together vinegar, salt, pepper, and walnut oil. Put lettuces in a large bowl, drizzle with just enough dressing to coat, and toss gently and thoroughly.
Step 4
4
Divide lettuces among 4 plates, sprinkle with walnuts, and to each plate add 2 goat-cheese disks and a baguette slice. Serve immediately.
Step 5
5
Note: Nutritional analysis is per serving.
Nutrition Facts
Servings Makes 4 servings
---
Amount Per Serving

Calories 703

Calories from Fat 65

% Daily Value *

Total Fat 51g

79

%

Saturated Fat 16g

80

%

Cholesterol 39mg

13

%

Sodium 804mg

34

%

Total Carbohydrate 38g

13

%

Dietary Fiber 3g

12

%

Protein 25g

50

%
---
* Percent Daily Values are based on a 2,000 calorie diet. Your daily value may be higher or lower depending on your calorie needs.