Print Options:
Bacon-Olive Potato Salad


Yields
Makes 6 to 8 servings

This warm potato salad, with briny olives and capers, goes well with grilled chicken or pork. If you're a fan of capers, add more of them. Prep and Cook Time: 30 minutes. Notes: The salad can be held at room temperature for up to an hour. Avoid reheating if possible.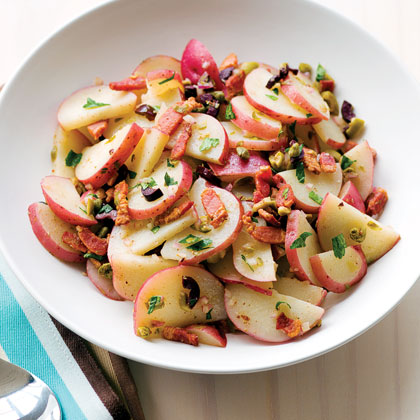 Photo: Leo Gong; Styling: Karen Shinto
2 pounds red-skinned potatoes
1/2 pound thick-cut bacon, chopped
2/3 cup pitted green olives
3 tablespoons brined capers
2 tablespoons chopped flat-leaf parsley
Step 1
1
Rinse and scrub potatoes; halve lengthwise and cut into 1/4-in. slices. Put potatoes in a large pot, cover with cold water, and bring to a boil. Add salt, reduce heat to maintain a slow boil, and cook potatoes until tender to the bite, about 8 minutes. Drain potatoes and put in a large bowl.
Step 2
2
Meanwhile, in a large frying pan (not nonstick) over medium-high heat, cook bacon until brown and crisp. Add vinegar and, using a wooden spoon, scrape up any browned bits on the bottom of the pan. Keep warm over low heat.
Step 3
3
In a food processor, pulse olives, shallots, and capers until chopped. Add bacon to olive mixture, stir, and pour over potatoes. Add parsley and toss to combine. Serve warm or at room temperature.
Step 4
4
Note: Nutritional analysis is per serving.
Nutrition Facts
Servings 0
---
Amount Per Serving

Calories 270

Calories from Fat 60

% Daily Value *

Total Fat 18g

28

%

Saturated Fat 6.3g

32

%

Cholesterol 19mg

7

%

Sodium 725mg

31

%

Total Carbohydrate 21g

8

%

Dietary Fiber 2.3g

10

%

Protein 4.8g

10

%
---
* Percent Daily Values are based on a 2,000 calorie diet. Your daily value may be higher or lower depending on your calorie needs.