Print Options:
Asian Pear, Fennel, and Walnut Salad


Yields
Makes 4 servings

The quality of the walnuts can make or break this dish, so be sure to taste them first (farmers' markets are an excellent source of fresh nuts; store in the freezer after buying). Prep Time: 20 minutes. Notes: Pears turn brown after they're peeled or cut, so make this salad right before serving (or put cut pears in a bowl of water with some lemon juice added to it; drain pears and pat dry before using).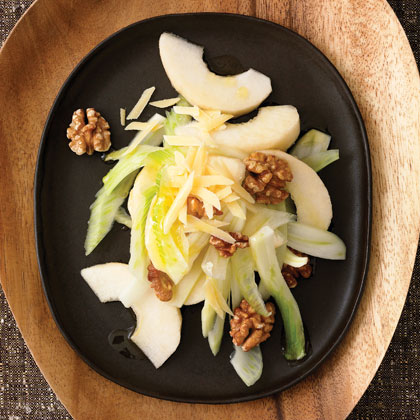 Leigh Beisch
2 1/2 tablespoons walnut oil
1 1/2 tablespoons lemon juice
1/4 teaspoon salt, plus more to taste
1/3 cup whole or roughly chopped toasted walnut halves
1/4 cup coarsely grated parmesan cheese
Step 1
1
Trim stalks and any discolored areas from fennel bulb. Cut bulb in half lengthwise, lay a flat side on a work surface, and cut into very thin slices. Repeat with other half and set slices aside.
Step 2
2
Cut pear into quarters and scoop out cores. Peel quarters and cut into 1/4-in. slices. Set aside.
Step 3
3
Whisk together walnut oil, lemon juice, and salt in a small bowl. Taste and add more salt if you like.
Step 4
4
Arrange fennel slices and pear slices on 4 salad plates. Drizzle each plate with 1 tbsp. dressing. Arrange walnuts and parmesan on top. Serve immediately.
Step 5
5
Note: Nutritional analysis is per serving.
Nutrition Facts
Servings Makes 4 servings
---
Amount Per Serving

Calories 205

Calories from Fat 70

% Daily Value *

Total Fat 16g

25

%

Saturated Fat 2.4g

12

%

Cholesterol 4.8mg

2

%

Sodium 289mg

13

%

Total Carbohydrate 14g

5

%

Dietary Fiber 4.7g

19

%

Protein 4.8g

10

%
---
* Percent Daily Values are based on a 2,000 calorie diet. Your daily value may be higher or lower depending on your calorie needs.