Print Options:
Asian Greens and Tofu Soup


Yields
Makes 6 servings


Total Time
1 hr
This nourishing soup gets most of its flavor from dashi, a light Japanese broth made from seaweed and flaked bonito fish; it's savory without tasting fishy. We like to use a combination of Asian greens, which you can find at most farmers' markets, but tender spinach makes a fine substitute. Kombu (dried sea kelp) and bonito are available at Asian markets and many grocery stores, including Whole Foods. Prep and Cook Time: 1 hour. Notes: Don't be tempted to use ready-made miso soup as the base, as it lacks the subtlety and freshness of homemade dashi.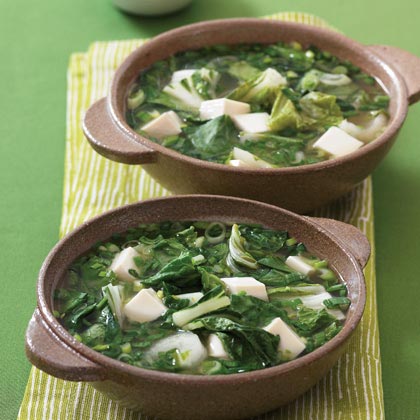 Leigh Beisch
2 pieces kombu (4 in. each)
1/2 cup dried bonito flakes
1/2 cup white or yellow miso
4 cups mixed Asian greens such as tatsoi and Chinese broccoli, coarsely chopped
3 cups bok choy, coarsely chopped
2 bunches scallions, thinly sliced
2 teaspoons grated fresh ginger
1 package (12.3 oz.) extra-firm silken tofu, patted dry and cut into 1/2-in. cubes
Sriracha hot sauce (optional)
Step 1
1
Make dashi: Soak kombu in 8 cups cold water for 20 minutes. Bring to a boil and add bonito. Remove from heat, let sit 5 minutes, then strain through a fine-meshed strainer into a large saucepan.
Step 2
2
In a small bowl, mix 2 cups hot dashi with miso, stirring until there are no lumps, then stir back into rest of dashi.
Step 3
3
Bring liquid to a gentle simmer (do not boil) and stir in greens, bok choy, scallions, and ginger. Once greens have wilted, stir in tofu and let simmer 5 minutes, then divide among bowls and serve immediately. Serve with chili sauce and/or sesame oil, if you like.
Step 4
4
Note: Nutritional analysis is per serving; sodium data not available.
Nutrition Facts
Servings Makes 6 servings
---
Amount Per Serving

Calories 115

Calories from Fat 24

% Daily Value *

Total Fat 3.1g

5

%

Saturated Fat 0.4g

2

%

Cholesterol 0.0mg

0

%

Sodium 0.0mg

0

%

Total Carbohydrate 14g

5

%

Dietary Fiber 4.2g

17

%

Protein 10g

20

%
---
* Percent Daily Values are based on a 2,000 calorie diet. Your daily value may be higher or lower depending on your calorie needs.