Print Options:
Apple Pumpkin Galette


Yields
Serves 8 to 10


Total Time
2 hrs

Cool Time
2 hrs

Total Time
4 hrs
Basically an open-face pie, this galette is a great dessert for pie-phobes to make because the crust is so easy to handle--you don't even need a pie pan.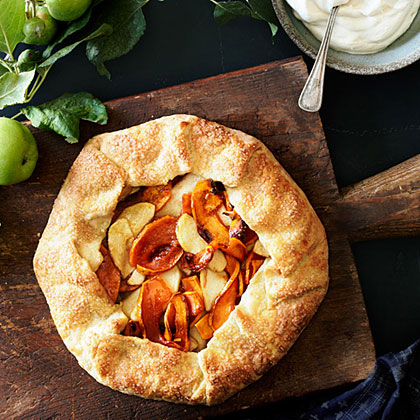 Photo: Annabelle Breakey; Styling: Karen Shinto
1 1/2 pounds sliced peeled baking pumpkin or kabocha squash
3 large Granny Smith apples (about 1 1/2 lbs.), peeled, cored, and sliced
1 teaspoon ground cinnamon
1/4 teaspoon ground nutmeg
1/4 teaspoon ground cloves
2 tablespoons bourbon or whiskey
2 tablespoons coarse decorating or turbinado sugar
Step 1
1
Set dough on lightly floured surface and roll into a large round about 1/8 in. thick. Transfer to a parchment-lined baking sheet and chill until ready to fill.
Step 2
2
Preheat oven to 375° with a rack on bottom rung. Lay pumpkin slices on a greased baking sheet. Roast, turning once, until tender when pierced, about 10 minutes.
Step 3
Step 4
4
Pour apple filling into center of dough, leaving a 1 1/2-in. border. Fold edges over fruit, allowing dough to pleat as you go. Dip a pastry brush in water and brush folded edges of dough. Sprinkle edges with coarse sugar.
Step 5
5
Bake galette until browned and bubbling, about 1 1/4 hours. Let cool before cutting.
Nutrition Facts
Servings Serves 8 to 10
---
Amount Per Serving

Calories 371

Calories from Fat 23

% Daily Value *

Total Fat 9.6g

15

%

Saturated Fat 5.9g

30

%

Cholesterol 24mg

8

%

Sodium 174mg

8

%

Total Carbohydrate 70g

24

%

Dietary Fiber 2g

8

%

Protein 3.2g

7

%
---
* Percent Daily Values are based on a 2,000 calorie diet. Your daily value may be higher or lower depending on your calorie needs.