How to Make a Bridal Bouquet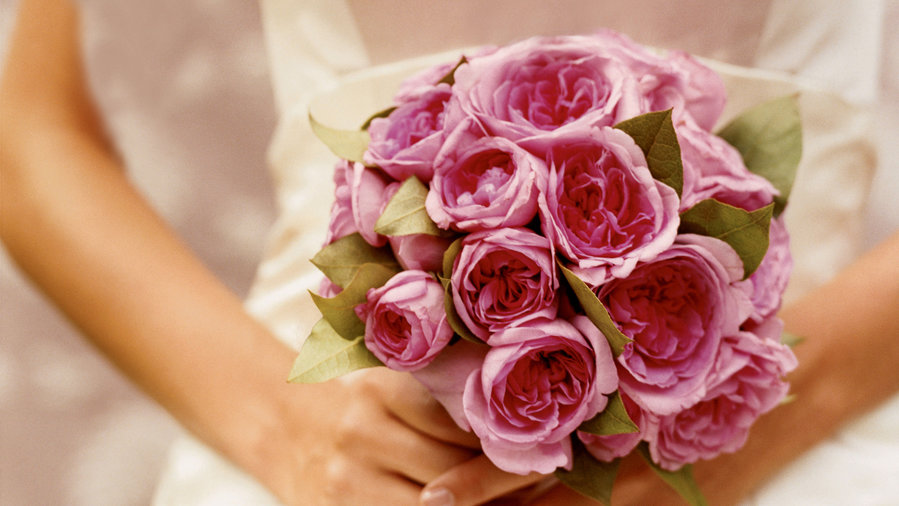 Making an elegant wedding bouquet is easier than you may think. Here are the simple steps
Plant your own bouquet flowers for an especially personal touch for your wedding. Your blooms will be as fresh as can be, and the plants will become a living remembrance of your day.
How to make a wedding bouquet
Harvest your flowers in the early morning or the evening, when temperatures are cool and the leaves and blooms are full of sugars and water.
Place the flowers in water in a cool location for at least three hours before arranging them. It's best to start arranging the bride's bouquet three hours before the ceremony begins.
To create a full, round, nosegay-style bouquet such as the ones shown here, begin by removing all but the uppermost foliage.
Then, holding a small cluster of blooms in one hand, begin adding individual blooms. Continue adding flowers on all sides, turning the bouquet regularly so that it remains round in shape.
Tip: Stand in front of a mirror as you work to keep an eye on the proportion and visualize how it will look when carried. When the bouquet is full, gently secure the stems with a rubber band at the top, just below the flower heads.
Wrap the stems securely with green floral tape, available at a florists' supply shop, leaving the lower few inches of stem exposed. For tender-stemmed blooms such as tulips and hyacinths, skip the rubber band and secure with floral tape only.
Using sharp pruners, clip the stems evenly across the bottom―a glance in the mirror will help determine the best length.
Tie a ribbon around the stems to hide the floral tape, and pop the arrangement into a vase with a small amount of water at the bottom until ready to use.
Blot dry the bottom of the bouquet before taking it down the aisle.