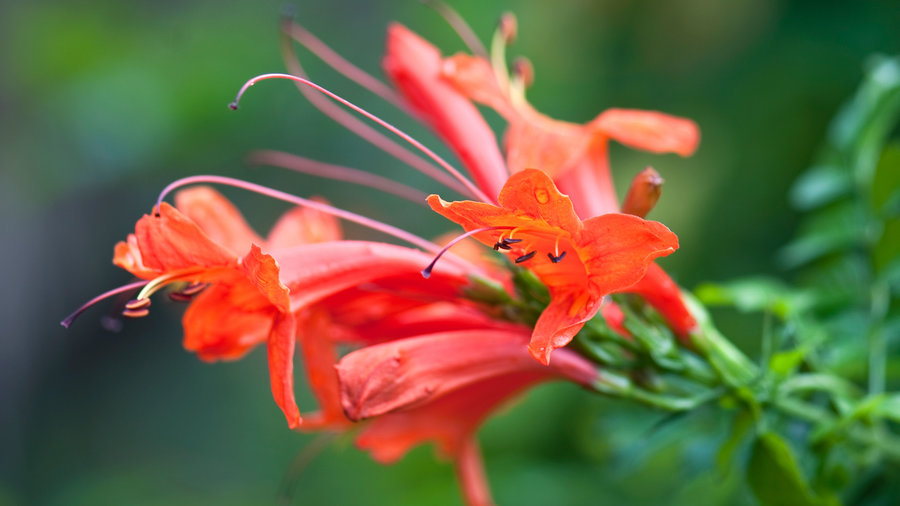 David Dixon / Getty Images
Quick facts and care essentials
• Evergreen, semievergreen, or deciduous
• Zones vary
• Full sun or partial shade
• Moderate watering
• Climbs by: twining
 Honeysuckle is an old-fashioned favorite, beloved for its casual charm and (in many species) the sweet perfume of its tubular spring-to-summer blossoms. The twining stems are outfitted in oval, 2- to 3-inch long leaves in dark to bluish green. Give the vines support in the form of a trellis or a wall strung with wire. Prune as flowering tapers off (usually in late summer), cutting vines to a manageable size. Badly overgrown plants can be cut back to the ground any time; they'll regrow rapidly.
Japanese honeysuckle, L. japonica, is the most commonly grown species ― but it has become an invasive pest in much of the Southeast, overrunning the native flora. To avoid contributing to its spread in the wild (its seeds spread from backyard gardens to cover an enormous radius), consider one of the other honeysuckles.
Gold flame honeysuckle, Coral honeysuckle (L. heckrottii). Zones 3-24, 30-35. Evergreen in mild-winter zones, deciduous in colder regions. Many honeysuckles have blooms in modest shades of cream, white, or pale yellow, but this one is different. Coral pink buds open to 1 1/2-inch-long, bright coral pink flowers that are rich yellow inside. The vine reaches 12 to 15 feet. It is often trained on a trellis against a wall or on wires along house eaves to form an embroidery of leaves and blossoms.
Gold flame honeysuckle prefers rich, well-drained soil and shade for its roots. It rarely sets seed, so it generally is not invasive.
Trumpet honeysuckle (L. sempervirens). Zones 2-41. Semievergreen in milder areas; deciduous elsewhere. Though this species lacks the famed honeysuckle perfume, its blooms do offer eye-catching color, ranging from bright orange-yellow to scarlet. The flowers are 1 1/2- to 2-inch trumpets, carried in whorls at stem tips. The vine is a fairly modest grower, reaching 10 to 20 feet.
Trumpet honeysuckle isn't particular about soil, but it does need good drainage. It may set some seed, but it's unlikely to be as invasive as Japanese honeysuckle.