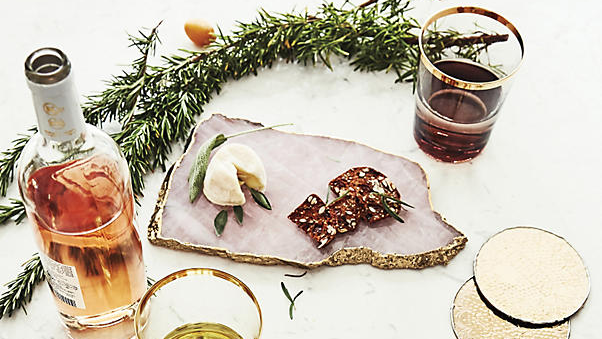 For a simple, sophisticated party, pair artisan cheeses with wine
Cheesemaking is an old art that has been making a big comeback in the West. Local artisans from Colorado to California are handcrafting cheeses in the Old World tradition, working in small batches and attending to every detail, from what the cows eat to how often the cheeses are turned during the aging process. All this hard work results in complex, flavorful cheeses.
They range from soft-ripened cow-milk cheese full of robust, earthy flavors to aged goat cheese with surprising complexity, and from creamy, buttery-textured blue cheese to aged cheddars. At specialty markets and even large grocery stores now, the selection is getting better and better. This is great news for anyone who likes to entertain with ease. These delicious cheeses make perfect appetizers all on their own ― pair a few with some wines for a stylish, no-hassle appetizer party.
The strategy
With just a little advance planning, a cheese- and wine-tasting party is simple to put together. All you really need is great cheese (count on buying 4 to 6 ounces per person), bread or crackers, and wine (about one bottle for every two guests). Everything else is optional, including fresh or dried fruits, toasted or spiced nuts, and other accompaniments.
When purchasing cheese for a party, you can either offer a variety ― soft-ripened, cow-milk, goat, blue, and hard cheeses can be mixed and matched with delicious results ― or concentrate on one type. The latter approach makes wine pairing a little simpler, but offering a range gives you great potential for a beautiful display and distinctive serving ideas. Let the cheeses warm to room temperature for best flavor and texture. (Use the same strategies to assemble a simple cheese tray that will be part of a larger appetizer spread or ― as a cheese course ― a stylish way to end dinner.)
Plan ahead: you may need to order artisan cheeses from the cheesemaker or have your market order them. As with anything handmade, supplies of these cheeses may be limited. Our chart describes some of our favorites from among the very newest Western cheeses, but explore on your own as well ― there's a world of delicious choices at your market.
Gather your friends and taste the latest crop of artisan cheeses; they range from mild to earthy.
HOW TO PAIR CHEESE AND WINE
Serve more white wines with cheese. Light, with a crispness that cleanses the palate after rich cheeses, they're often a better choice than reds.
Look for acidity in wines ― it's often an asset. Good choices include Sauvignon Blancs, sparkling wines, and dry Rieslings.
Lean toward richly fruity reds. They work well with cheese's salty flavors. Pinot Noirs, Syrahs, and Zinfandels are good bets.
Try different goat cheeses with wine. Overall, they are surprisingly versatile together. Goat cheeses offered the largest number of potential matches in our tasting. The toughest cheeses to pair (goat or otherwise) are earthy and pungent, flavors that can strip down a wine.
Avoid heavily oaked wines, such as super-oaky California Chardonnays. Their buttery richness can be overwhelming with similar qualities in the cheese.
Steer clear of excessively tannic reds, such as Cabernet Sauvignons. Salt and tannin are a train wreck in the mouth, so tannic reds don't work well with most cheeses.
Consider the effect of added flavorings on the wine match. If a cheese is coated in black pepper or herbs, for instance, that can throw off your pairing, so take the characteristics of any flavorings into account when choosing wines. ― Karen MacNeil-Fife
Keep Reading: