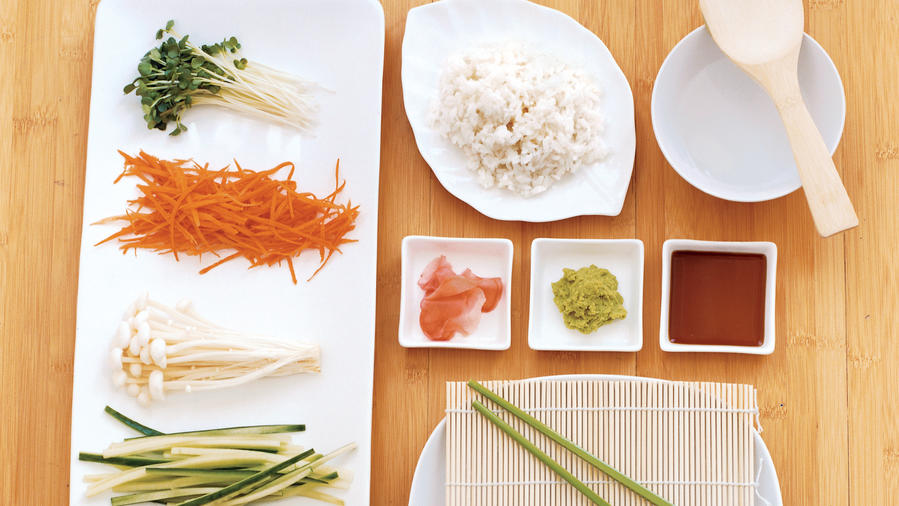 Fresh sushi recipes and foolproof directions to get your party rolling
Don't let sushi chefs have all the fun. Turn the spreading, layering, tucking, and rolling into a party at home. There's no wrong way to make sushi: Depending on their dexterity and ambition, your guests can make traditional maki (rolls), assemble more free-form cones, or eat chirashi ("scattered-style" sushi) by piling the rice on their plates and topping it with the seafood and vegetable fillings.
Here's an easy plan for a do-it-yourself sushi party for six people. Your part is to cook the rice, prepare the fillings, set up a rolling station, and make the salad (steps 1 through 4). Your guests' job is to roll and wrap away, an activity that gets more entertaining in proportion to the amount of sake they consume in the process.
Round out the menu with items you can buy at an Asian market, like frozen gyoza (potstickers), edamame (soybeans) in their pods, miso soup from a mix, wasabi-flavored rice crackers, and some mochi ice cream balls for dessert.
Nori (seaweed wraps), wasabi, and pickled ginger are available in well-stocked supermarkets and in Asian grocery stores. Traditional bamboo sushi mats make rolling easy, but sheets of plastic wrap work surprisingly well. The mats, chopsticks, and rice paddles are available at Japanese markets, other import stores, and through www.cooking.com, www.mrslinskitchen.com, and www.pacificrim-gourmet.com. 
Sushi party ― in 5 steps
STEP1
Start the rice
You can make the sushi rice up to 4 hours ahead; cover and let stand at room temperature.
3/4 cup rice vinegar
3 tablespoons sugar
3/4 teaspoon salt
4 1/2 cups short-grain white rice
1. In a small bowl, stir rice vinegar, sugar, and salt until sugar and salt are dissolved.
2. In a fine strainer, rinse rice under cold running water until water runs clear. Drain for 5 to 10 minutes. Put rice in a 4- to 5-quart pan and add 5 1/4 cups water. Bring to a boil over high heat, then lower heat to maintain a simmer, cover, and cook until water is absorbed, 10 to 15 minutes.
3. Spread rice out in a shallow 12- by 16-inch baking pan and slowly pour vinegar mixture over it, turning rice gently and fanning it (the Japanese use a traditional fan, but you can use a piece of paper) until it comes to warm room temperature, about 15 minutes.
STEP 2
Prepare sushi fillings
Choose five to seven items from this list of favorites. You can get them ready up to 4 hours ahead; chill airtight until you're ready to roll.
Ahi
Rinse 3 ounces sashimi-grade ahi tuna (yellowfin or bigeye; for bacteria safety, buy it from a good seafood purveyor); pat dry. Cut tuna into 1/4-inch-thick strips about 1/2 inch wide and 3 1/2 inches long. Just before serving, arrange raw fish on a bed of crushed ice on a rimmed plate.
Caviar
Place 2 ounces salmon roe in a wire strainer and rinse gently under cold running water; mound in a small bowl.
Crab
In a small bowl, mix 8 ounces shelled cooked crab or drained canned crab (squeeze out liquid) with 1/4 cup mayonnaise and soy sauce to taste (about 2 teaspoons). Makes about 1 cup.
Smoked salmon
Cut 3 ounces thinly sliced smoked salmon into 1/2-inch-wide strips.
Asparagus
In a 5- to 6-quart pan over high heat, bring about 1 quart water to a boil. Snap off and discard tough stem ends from 8 ounces asparagus. Rinse asparagus and add to boiling water; cook until barely tender when pierced, 3 to 4 minutes. Drain and immediately immerse in a bowl of ice water. When cool, lift out and cut into 3 1/2-inch lengths.
Avocado
Pit and peel 1 firm-ripe avocado (8 oz.); slice lengthwise into 1/4-inch-thick, 1/2-inch-wide strips about 3 1/2 inches long. Place in a bowl with 2 tablespoons lemon juice; turn to coat.
Carrot
Peel and shred 3 ounces carrot, or use 3/4 cup shredded carrot.
Cucumber
Rinse 6 ounces Japanese or English cucumber; cut into 3 1/2-inch lengths. Cut lengthwise into 1/4-inch-thick slices, then stack 2 or 3 slices at a time and cut lengthwise into 1/4-inch-thick sticks.
Mushrooms
Trim woody stem ends from 3 ounces enoki mushrooms. Rinse mushrooms briefly, drain, and gently pat dry.
Spinach
In a 5- to 6-quart pan over high heat, bring about 3 quarts water to a boil. Add 6 ounces rinsed spinach leaves and cook just until wilted, 1 to 2 minutes. Drain and immerse in a large bowl of ice water until cool. Drain again and spread on a clean kitchen towel. Roll towel up and twist and squeeze tightly to remove as much liquid as possible.
Sprouts
Gently rinse and drain 2 oz. (1 1/2 cups) radish or broccoli sprouts; trim off root ends, if present.
STEP 3
Set up a rolling station
Arrange sushi components on the table, or set up a station on a nearby counter.
1. Mix 1/4 cup rice vinegar with 4 cups water. Pour into small bowls for guests to moisten their hands while rolling sushi, so rice doesn't stick.
2. Put 6 precut sheets of nori (7 1/2 by 8 in.) in a covered serving container to keep dry; mound sushi rice and fillings on platters or in bowls (vegetables together, seafood separately). Put condiments ― soy sauce, pickled ginger (1 cup), and wasabi (about 3 tablespoons prepared wasabi or 4 tablespoons powdered wasabi mixed with about 2 1/2 tablespoons water) ― in separate bowls.
3. Arrange ingredients, along with bamboo mats or plastic wrap, on the table or station.
Make the salad
STEP 4
The longer the cucumbers stand in the vinegar, the more limp and flavorful they become. Chill salad up to 2 hours.
8 ounces cooked, peeled, and deveined shrimp (31 to 40 per lb.), tails removed
2 English cucumbers (about 1 1/2 lb. total), rinsed
1/3 cup rice vinegar
2 tablespoons sugar
2 teaspoons soy sauce
1/3 cup unsalted roasted peanuts, chopped
1. Rinse shrimp; drain well. Cut in half lengthwise. Thinly slice cucumbers.
2. In a bowl, mix vinegar, sugar, and soy sauce. Add cucumbers and shrimp; mix to coat. Top with peanuts just before serving (see notes).
STEP 5
Roll your sushi
Here are two different styles of rolls to try ― the traditional maki and the free-form hand roll, which is even easier.
Keep Reading: