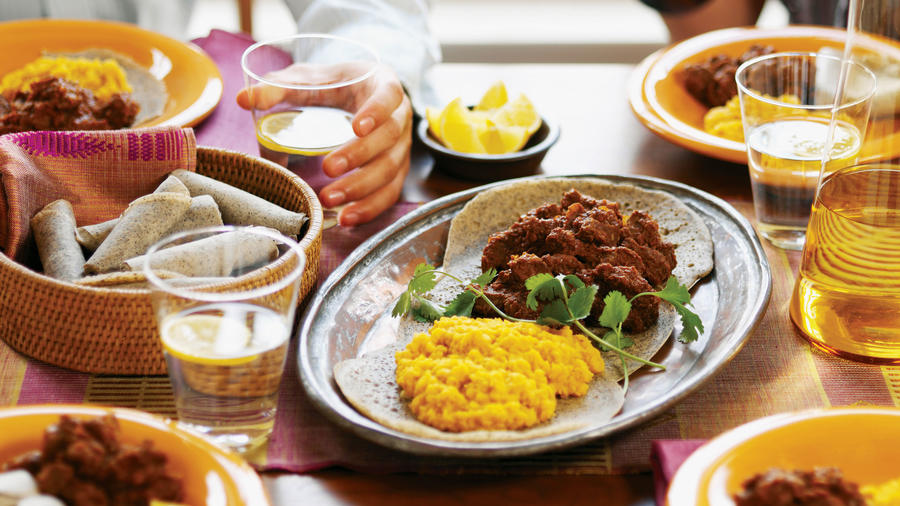 Share simple, spicy stews and flatbread, Ethiopian-style
Beef Stew in Spicy Berbere Sauce
Ethiopian food is best known for its richly flavored meat and vegetable stews and for injera, a spongy sourdough flatbread that acts as both an edible "plate" and an alternative to forks and knives. Diners scoop up their food with pieces of folded injera, sampling from dishes made fragrant with cinnamon, clove, cumin, ginger, and turmeric. It's a fun way to share a communal meal.
It's also a great way to host a dinner party. We've streamlined some traditional Ethiopian recipes, cutting the prep time to 20 minutes or less for the stews. Our kitchen's retesters were amazed that such simple methods could yield so much flavor. You can even prepare the stews ahead of time and then reheat. All you have to do is make the injera before sitting down to eat.
Staples of Ethiopian cooking
Berbere. This heady spice mixture is the basis for all Ethiopian cooking. It can feature clove, cayenne, ginger, cumin, turmeric, and cinnamon, among other spices. Ground fenugreek seeds, which add a mildly sweet flavor, are also typical. Buy them at Middle Eastern markets or from Penzeys Spices ($1.09 per ¼-cup jar; 800/741-7787).
Injera. Authentic injera is made from fermented teff, a grain common in Ethiopia. The bread's spongy, bubbly texture is similar to that of a pancake. If authenticity is your aim, you can buy teff flour from Abyssinian Market ($25 for 5 lb.).
Tej. This Ethiopian honey wine is the traditional match for spicy stews, but few retailers in the United States carry authentic imported tej. You can buy a bottle at many Ethiopian restaurants, but an accessible alternative is off-dry Riesling, which pairs beautifully with the spicy beef stew. Our favorite: Spätlese Rieslings from Germany's Mosel region.
Ethiopian restaurants around the West
CALIFORNIA
 Messob Ethiopian. A cornerstone of L.A.'s Little Ethiopia. $$; lunch and dinner daily. 1041 S. Fairfax Ave., Los Angeles; 323/938-8827.
Red Sea Restaurant. An atmospheric hangout for the local East African population. Dine in or buy fresh injera to take home. $; lunch and dinner Tue-Sun. 4717 University Ave., San Diego; 619/285-9722.
Zeni. An extensive menu with lots of vegetarian and vegan choices. Conclude with the dramatic coffee ceremony. $; lunch and dinner Tue-Sun. 1320 Saratoga Ave., San Jose; 408/615-8282.
COLORADO
 Ras Kassa's. Known for its African wine list and selection of locally made honey wine, it also boasts a creekside patio. $$; dinner daily. 2111 30th St., Boulder; 303/447-2919.
NEVADA
 Meskerem Ethiopian Restaurant & Market. An oasis of authentic Ethiopian fare tucked away in an unassuming strip mall. $; breakfast, lunch, and dinner daily. 252 Convention Center Dr., Las Vegas; 702/732-4250.
Keep Reading: